Rally X Smart Workout System
All-in-one design smart resistance band, suitable for whole body workout and replacing multiple resistance bands of different pounds.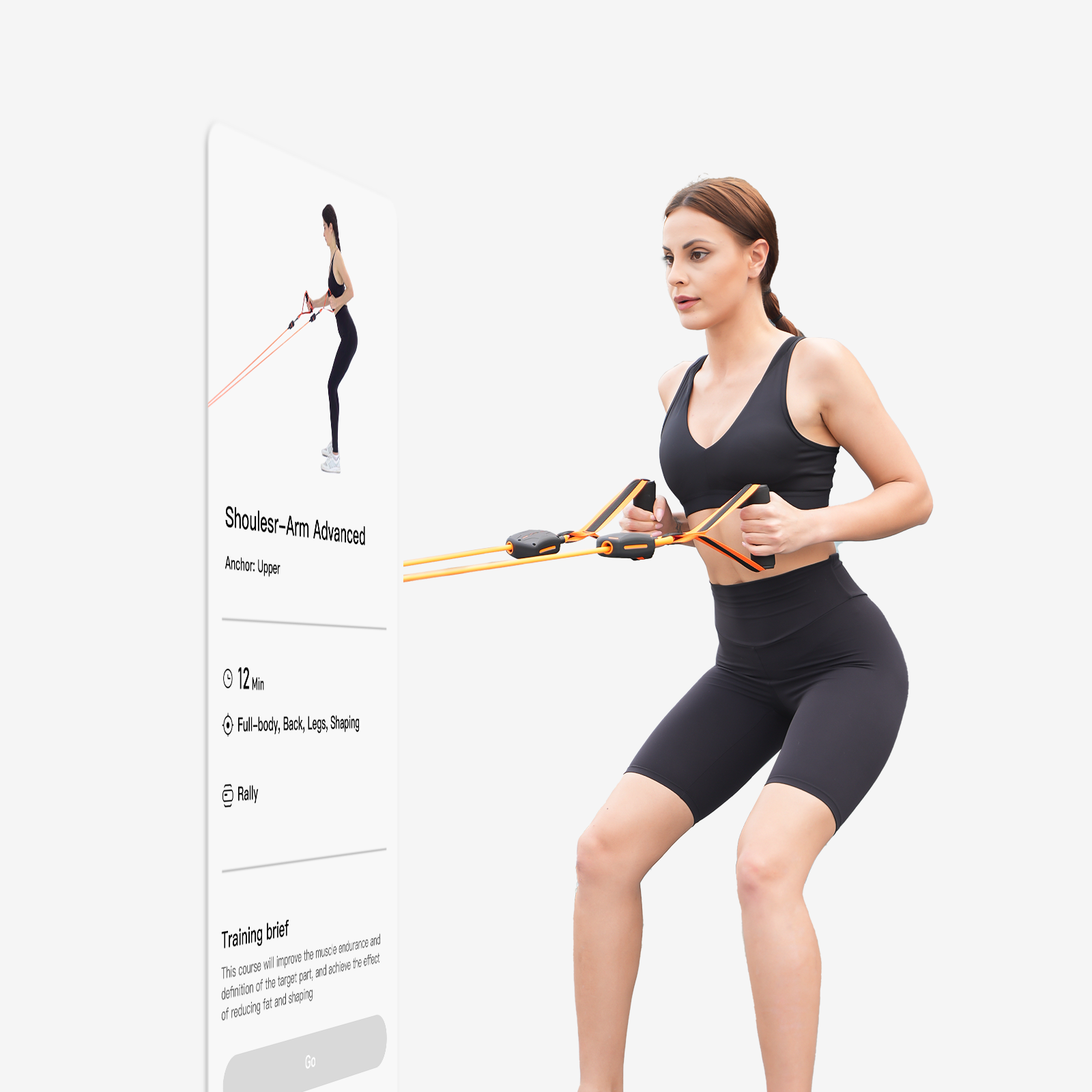 MASSIVE TRAINING COURSE MEET WITH YOUR NEED
Free continuous update of training courses created by certified personal trainers
Certified Personal Trainer
NASM Tutor
Lululemon Ambassador
ATL Founder of Alpha Fitness
CYO Certified Personal Trainer
ACTIVE IQ Athletic Referral Certification
NASM Youth Training Certification
Certified Personal Trainer
WeGym Senior Fitness Trainer
Certified Personal Trainer
WeGym Senior Fitness Trainer
FREE EXTENSIVE TRAINING COURSES FOR A FULL-BODY WORKOUT
Our certified personal trainers have created over 10,000 minutes workouts with over 250 movements targeting chest, legs, core, shoulders, back, and glutes. From strength training to yoga to aerobics, there are countless options for every fitness level.
● Chest
● Core
● Back
● Full-Body
● Legs
● Shoulders
● Glutes
● Yoga
ONE-CLICK WORKOUT PLANS MAKE FITNESS ROUTINES EASY AND EFFICIENT
Design a dynamic and exclusive course for you according to your height, weight, fitness time and other data.
High-precision sensors to capture efficient moments.
Independent research and development of high-precision sensors
The APP can accurately record your workout data, including movement stability, force peaks and valleys, explosive force, etc., and generate your workout summary for you, every movement counts.
Up to 40 hours of use on a full charge.
* The device can also be used normally when offline
ADJUST RESISTANCE LEVELS WITH THE TAP OF A FINGER
Increase the band's resistance for a more intense workout. Simply press your finger and slide to easily adjust the resistance to fit your need.
REPLACE ALL OF THAT BIG, EXPENSIVE GYM EQUIPMENT
With the X3 Pro smart system you can get a complete workout with the need for the big, heavy, and expensive gym equipment. It's a full body workout in the palm of your hand.
Relace the equipment like:
● Dumbbell

● Barbell
● Smith machine
● Rowing machine
Get your workout in no matter where you are, what time it is, or what the weather is like.
● Home
● Outdoors
● Traveling
● Yoga
● Office
● Hotel


latex and aviation aluminum material
① Band 2
② Handles 2
③ Wrist Band 2
④ Ankle Band 2
⑤ Door Anchor 1
⑥ Suspension Strap 1
⑦ Mesh Carry Bag 1
⑧ Charging Cable 1
FULLY PROTECTED FOR WORRY-FREE USE
Waterproof and dustproof design of the whole device.
Super long usage life, our latex bands are guaranteed for 30,000 extensions, far surpassing the industry standard of 5,000 extensions.
Lightweight and high-strength aviation aluminum and the load can be up to 300KG.
The Velcoro is professional grade to provide 33lbs stable adhesion.